Bud Industries now offers Digital Printing
Bud Can now Digitally Print on enclosures and panels
Logos, multi-color images, & verbiage
Can be legible in as small as 9pt
UV-stabilized, chemically resistant, and durable
Easier to color match
Printed face should be less than 16×20"
NEW OPTICAL JOYSTSICK CERTIFIED TO MEDICAL STANDARD EN61000-4-3 AND MILITARY EMC REQUIREMENTS TO 200V/m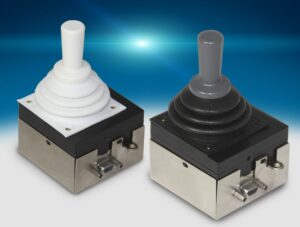 STRATFORD, CT — CTI Electronics (An Affiliate of Electro Switch Corp.) has launched a new line of optical joystick motion controllers and mouse pointing devices.  Made in the USA, LightStick® Series controllers exceed medical and military performance standards for electromagnetic and RF disturbance in applications to 200V/m — without additional shielding.
The LightStick's patented noncontact optical sensor technology ensures highly repeatable operator feedback for the life of the controller — up to 10 million cycles and an MTBF greater than 10 years of operation.  The LightStick joystick maintains its high repeatability in each axis — stability and no drift at center — even when exposed to electromagnetic interference of 200V/m over a frequency range of 2MHz – 18GHz (per MIL-STD-461G, RS103 Military Standard using Amplitude Modulation) as well as electromagnetic interference of 30V/m over a frequency range of  30MHz – 2.7GHz  (per EN61000-4-3 Medical Standard).
CTI Electronics has over 30 years of experience creating custom HMI solutions for OEMs — solutions that provide reliability, durability, and superior performance throughout the product life cycle.
For more information, contact CTI Electronics, 110 Old South Avenue, Stratford, CT 06615,
TEL: (203) 386-9779, E-mail: sales@ctielectronics.com, www.ctielectronics.com.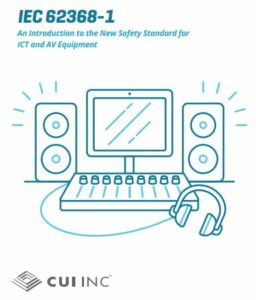 The established safety standards for ICT equipment (60950-1) and AV equipment (60065) are to be phased out in favor of a single standard, 62368-1, in North America and the EU. The new standard introduces a different, hazard-based philosophy to product testing. December 20, 2020 represents an important date for companies marketing audio-visual products or computing/communications equipment in North America (i.e. USA and Canada) and the EU. The safety standards that historically have applied to these products, IEC 60065 and IEC 60950-1 respectively, will transition to IEC 62368-1.  What does it mean for product certification, and how can OEMs best manage the transition?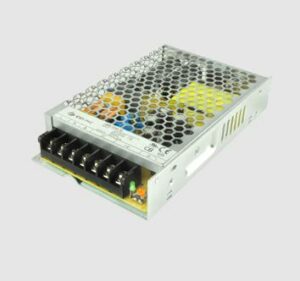 CUI's new VGS-B series are compact, chassis mount AC-DC supplies in a metal case
35W – 350W power ratings
As small as 99 mm x 82 mm x 30 mm (3.89 x 3.22 x 1.18″)
No-load power consumption as low as 0.3W
Built-in, temperature controlled fan on 250W and 350W models
Superior Color in Full HD
The color reproduction of conventional TFT-LCD modules had challenges to match the performance of OLED. There was always a gap between 30% to 40% less gamma range.
The colors shown on the TFT display were often different from the actual colors and were not as vivid as they should be.
Interactive Display Solutions (IDS) is proud to present a brand new enhancement and calibration technology called Ultra RGB that reduce the gap of color difference from 5% to 8% less than an OLED. At the same time, it is part of our flexible customization product family. The options include brightness, interface, mounting structure, endurance bonding and PCAP touch panels.
Click the button below for more details of standard products, enhancement requests or to schedule an on-site demonstration of samples.
QBHP684U-IRU 1 W High-Power LED
QT Brightek introduces its QBHP684U-IRU infrared emitter, a 3535 high-power package with a compact size
QT Brightek's QBHP684U-IRU infrared emitter is a 3535 high-power package with a compact size which is suitable for surveillance, security, remote, and proximity-sensing applications. With a wavelength of 850 nm, this high-power IR LED perfectly meets the requirements for touchscreens or any industrial sensing and machine vision system application need. This unique 850 nm IR light is barely visible to the naked eye but is easily registered by the detectors. With QTB's advanced packaging process, this high-power IR emitter features high-efficiency and industry leading low-thermal resistance.
Features

Low-thermal resistance
High-power output
1 W 3535 high-power package

Package in tape-and-reel
Maximum 700 mA drive current
OMRON announces the release of its new G6QE PCB Power Relays.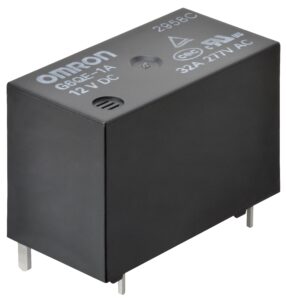 These new relays have a high-switching capacity of 32A with a small size package, offering customers downsizing and high performance in a customer's application, as well as energy saving, by operating with holding voltage method.
OMRON is pleased to announce the release of the new G2RL-1A-E2-CV-HA 23A Relay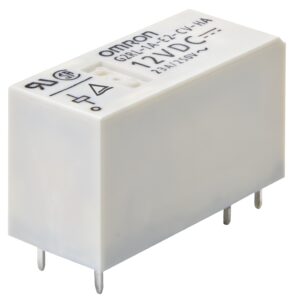 This product is a great alternative for use in a multitude of applications that previously relied on the discontinued G8P Relays for operation.
The new 1FormA (SPST-NO) relay is a footprint compatible extension of the existing G2RL lineup, with a higher switching current of 23A at an ambient operating temperature of 105°C maximum. The product additionally meets application needs with its low profile (H=16.7 mm), long life and low coil power consumption.
Taiyo Yuden introduces two new 330uF MLCCs in a 1210 package size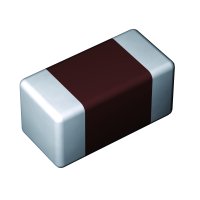 Utilizing strengths in materials, layering, and printing technologies, Taiyo Yuden can provide industry leading specifications with 4V product available with a X6S temperature coefficient and 6.3 product available with a X5R temperature coefficient. These latest MLCCs feature improved DC bias characteristics compared with previous iterations, allowing Taiyo Yuden to reach higher effective capacitances, allowing for improved power handling and replacement of multiple capacitors used to achieve similar capacitance values.
Taiyo Yuden's latest NPI expands the MD series MCOIL metal core power inductors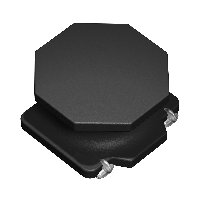 Taiyo Yuden's latest NPI expands the MD series MCOIL metal core power inductors with 0.56uH, 22uH, 33uH inductance values in a 4.0mm x 4.0mm package with a max height of 2.0mm. Utilizing Taiyo Yuden's strength's as a materials company, these inductors achieve saturation currents up to 13A, 2.1A , and 1.7A respectively due to the in-house development of metal magnetic materials with high magnetic saturation density.